Tamiya 1/72 Jaguar GR.1
By Sav. 27/May/2009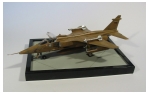 The Aircraft
Tamiya's reboxing of the older Italeri kit offers great value for money for those that want a decent version of this famous attack aircraft. The Sepecat Jaguar.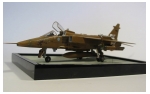 The Kit
Tamiya continues the trend of re-boxing Italeri's older kits here with the Jag GR 1. And this isn't a bad thing at all as the Italeri version of this kit can be quite tricky to get nowdays.
The kit itself is pretty typical from the higher end of Italeri's offerings with parts that fit very nicely together. The panel lines are of the engraved variety and are very nicely done, not super fine like a top Hasegawa kit but nice enough for me.
Overall the kit is excellent value for money and would suited to all types of modelers from beginners who will benefit from it's great fix and no hassle construction, to the more advanced modelers who can take advantage of it's finer details.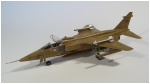 Construction
Building the kit is very simple and from what I remember, there were no problems at all in this step. The cockpit is reasonable for this scale and features a decent tub with side panels and raised details. Those that wish to go nuts here might want to add some third party details here especially if they intend to open the canopy which reveals a good portion of the inside cockpit.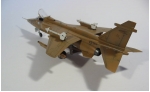 Painting/Finishing
The kit was pre-shaded with mat black to highlight the panel lines. This was one of the first kits that I used this technique for and chose it because the covering color was a simple pink-sand. I actually painted this the same time as the Tornado GR1 which was in the same scheme, this was done to reduce trips back and forth to the spray booth.
The pink-sand color (I think I got the color wrong) was applied with very thin coats as I wasn't sure how far I needed to go. With pre-shading there's always a possibility of going too far and losing the affect, or not applying enough paint and having obvious black lines showing through.
I found the easiest way to get decent results is to thin the paint down and apply light coats, stopping every few minutes to hold the model back and check it from a different distance.
Once the painting was completed I applied performed the standard task of applying a coat of future, adding a wash to the panel lines and then applying the decals which were supplied with the kit.
Overall a great kit, I'd certainly love to pick up another one of these and do the old RAF camo scheme of the 80's, or the later low-vis gray scheme... or maybe...