Airfix 1/72 Tornado GR1
By Sav. 14/Dec/2009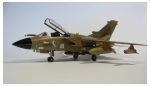 Introduction
Parts of this kit came free each month on the cover of one of those aircraft magazines, I think it was "Take Off" magazine. I can't be for certain but the kit looks like an airfix type of kitset.
Update: Actually, I think this is an Italeri kit, not an airfix one.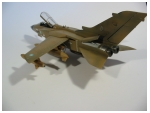 Construction
This kit was made a long time ago back when I could finish a kit in a day or so and I'd be pretty happy if it turned out looking something like it's intended target.
Back then I didn't really know it was a nasty little kit, it was just another kit that went together quite easily and didn't cause too much trouble.
The parts were very basic and devoid of most detail with a basic cockpit and raised panel lines. I do recall preshading this kit which must have been almost my first attempt at doing this, and it didn't come out too bad at all.
Looking at it now it looks a little embarrassing to see the lack of detail all sorts of other problems, but I still enjoyed it and it certainly looks ok from 5 feet. Ok maybe 10 :)