Airfix 1/24 Mosquito
By Sav. 28/Jan/2010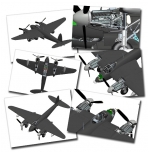 Airfix have been taking over 10 months of research on their new 1/24th scale Mosquito and now they are nearing release.
The kitset will have around 617 parts when put together will produce a airframe with a wingspan of 688mm and a length of 545mm. This has to be close to the record size for any plastic model aircraft.
The Airfix 1/24 Mossie kit can be reportedly built as two version, the FB.VI Fighter Bomber version and the NF.II version which served as a Night Fighter. Five decal options are planned to be included:
FB.VI
No. 487 (RNZAF !!) Operation "Jericho", 1944
No. 143 Sqn, Baniff Strike Wing, 1945
No. 1 Sqn, RAFF, 1945
NF.II
No. 157 Sqn, RAF, 1941
The kit includes some pretty stunning details around the engines, weapons and bomb bay not to mention the cockpit which looks absolutely amazing.
There are already a few reviews popping up around the internet which all seem to indicate that this is one of Airfix's best releases, possible the best release. Certainly a step up from some older Airfix kits
We hope to have a review copy of the Mossie up shortly.
More information on the Mosquito can be found here