Airfix 1/72 BAC Lightning F3
By Sav. 23/Oct/2009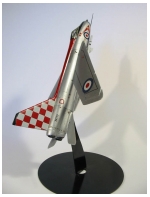 The Aircraft
The Lightning was a product of the cold war and was the only British jet which was capable of mach 2 flight.
Built primarily as an interceptor, its main features were its speed and climb rate, the Lightning had an initial climb rate of 50,000 feet per minute which is better than many contemporary jets today. Not bad at all for a 1950's bird.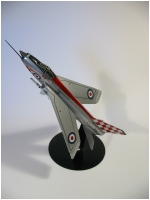 The Kit
This is Airfix's old kit, one of those kits you pick up cheap somewhere and think it will be a great short build. Then you get home and open it say "Oh".. then put in on the shelf, next to the 121 other kits.
However after getting back into the hobby and reading all these wonderful stories of people cutting bits out of the kit to position things like flaps and control surfaces - I decided this would be a great kit to sacrifice for a bit of trial and error to see how easy it would be.
The kit is made up of one sprue and a few loose parts of soft plastic. Very few details are included and the only options are pose able air brakes and landing gear.
Decals are included for two versions of the Lightning F3
5 Squadron R.A.F Binbrook 1983 (in RAF Camo and lower grey)
11 Squadron R.A.F Binbrook 1984 (in light grey lower and dark grey upper)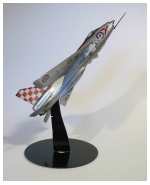 Construction
I decided to build the kit on a stand as if it were climbing to intercept and in a slight roll and so figured that cutting the ailerons would be a good way to see how easy this kit modifying stuff was.
Placing a new blade in my Xacto knife I patiently drew the tip of the blade along the line where the aileron meets the wing. After a few minutes patient scraping gave way to sawing and the ailerons and wings were finally parted.
It was a little messy but I was pretty happy considering it was my first attempt.
The cockpit area was painted black as the canopy was going to be closed and I couldn't be bothered with adding too much detail. 
Once the main kit was together copious amounts of putty and sanding was required to fill all the gaps. The kit was then re-scribed, with a pin, which was all could think of using back then. Because of this the panel lines were far too deep and crude.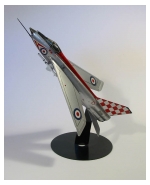 Painting / Finishing
Once the kit was together and sanded down reasonably well I masked off a few squares and sprayed them black. The idea was to spray silver over the top and the black would subtly show through giving the allusion of different shades of silver.
The effect was lost a little due to me spraying far too much paint but you live and learn, and that's why I try all these new skills on the cheaper kits.
Once the silver was dry I masked off the top spine and sprayed the red which I tried to get to match the tail fin decal colour.
Once that was dried I applied some kitchen foil to the front rim of the engine intake, this gives this part of the aircraft a chrome look.
The decals were from Model Decals sheet number 52, which went on extremely well, I've never had any trouble with these decals and they always seem to be very reasonably priced.
The stand was then made from an old CD and scrap plastic and sprayed black.
All in all, it was great fun and a good opportunity to attempt lots of new techniques without risking a more expensive kit. This kit was made a few years ago now but still stands proudly pointing to the ceiling on top of my office bookshelf :)