AirDOC book - LTV A-7D/K Corsair II
By Sav. 13/May/2010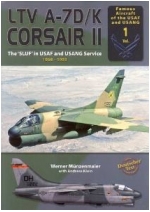 AirDOC have released LTV A-7D/K Corsair II: The 'SLUF' in USAF and USANG Service 1968-1993 (Famous Aircraft of the USAF and USANG).
This paperback has 137 pages packed full of all the details any SLUFF lover could ever hope for. I had a brief look through the pages and they all seemed to contain some very nicely detailed full colour photos of internal details and more.
It also gives some good details on some of the more interesting colour schemes that the A-7 wore during is career like the Spirit of 76 paint job.
Click on the link below for details on how to score a copy for yourself.
LTV A-7D/K Corsair II: The 'SLUF' in USAF and USANG Service 1968-1993 (Famous Aircraft of the USAF and USAG, 1)