Removing Small Parts from the Sprue
By Sav. 16/Jun/2009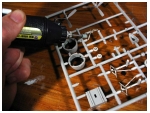 Who hasn't been in the situation where they are removing some impossibly small part from the sprue and it either snaps and gleefully jumps into the waiting maws of the Carpet Monster to be forever lost - or you slip and impale yourself on your newly loaded hobby knife blade.
The answer was really quite simple, but very effective and came from being... well, lazy. I was using my new Dremel tool to trim some excess plastic off some parts which were still attached to the sprue and decided to use it to remove some small parts rather than put down the Dremel and pick up the knife.
I was quite surprised how easy it was to use the Dremel to remove these small parts. It's very accurate and places no pressure on part. The trick is to first cut away the small arms that are holding the piece, then trim off the remaining bits as needed.
So there you have it, the next time you have that tiny arrestor hook, or landing gear to remove, pull out your trusty motor tool and go nuts.
If you still have trouble with bits taking a dive off the sprue, try fixing part of it to the sprue with masking tape. That way you can disconnect it from the sprue without it falling off.
Happy modeling