Superscale 1/72 72-336 F-16A/B Falcons 388, 474, & 8 TFW
By Sav. 14/Oct/2009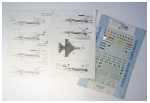 Introduction
This is superscales 72nd decal sheet featuring enough decals for six different Falcons. Four F-16A's and Two two seat variant F-16B.
Enough stencil data is provided for three aircraft.
Below are the actual aircraft included:
F-16A 78-002 388 TFW Hill AFB
F-16A 474 TFW Wing Commanders Aircraft. Nellis AFB Arizona
F-16A 79-333 474th TFW Nellis AFB Airzona
F-16A 80-486 8 TFW Kunsan Korea
F-16B 79-439 474 TFW/430 TFS Nellis AFB Arizona
F-16B 80-625 8 TFW Kunsan Korea
The decals are printed cleanly and look like they will go down pretty well. The wolf head decal for the wolf pack aircraft doesn't look right to me but I can't find any close ups of the real aircraft to prove it.