Revell 1/72 P-26A Peashooter
By Sav. 23/Apr/2010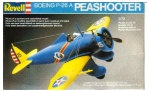 Lets see how revells little kit stacks up.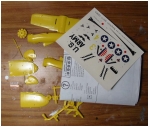 Well I got this kit without the box included so I've had to borrow the boxshot from elsewhere. The first the strikes you when you first see this kit is how insanely small it is, even for 1/72nd scale. The entire completed kit would easily fit in the palm of my hand with room to spare.
I originally purchased this kit intending to use it for a quick build to get back into finishing kits however I didn't take into account the amount of rigging which would need to be added for this to look decent. The rigging is extensive and would take considerable work to do well, however the good news is that the kit includes holes in the fuselage to attach the rigging to.
The parts look to be well made and dry fitting shows a reasonable fit, the surface detail is fine raised with lots of fine rivets.
The decals I had for this kit were for a US army aircraft however the instructions were for a different aircraft so can't comment squadrons etc.
Overall a nice looking tiny wee kit which would look great with a little effort.