Italeri 1/72 F-21 Lion
By Sav. 16/Apr/2009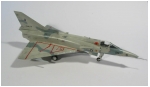 The Aircraft
Aside from aircraft from the Fleet Air Arm, I really enjoy the US aggressor aircraft. The varying paint schemes on these really make them pop off the shelf. The F21 is the first in my series of "The Agressors"...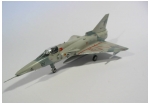 The Kit
As far as I know Italeri provide the only option if you want to build the F-21. Hasegawa do have a Kfir which you could probably convert but the Italeri one is still the better choice.
The kit contains the standard Italeri fare with a few grey sprues floating around inside a side-opening box (I really hate the side-opening boxes). The kit parts are nice and clean and contain medium quality recessed panel lines. The canopy can be displayed either open or closed but unless you're adding lots of detail here you probably want to leave it closed. For some reason I never glue the canopy as I want the option of having it open or closed but it does mean that it sometimes 'floats' a little and looks terrible in photos.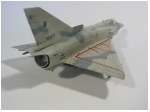 Construction
Pretty straight forward here, it goes together very quickly and without any problems. I did spray the insides of the intakes white before building them and there is a little bit of filler required to get them to seam nicely with the rest of the airframe. I did use a white metal seat for a mirage to replace the kit seat which was really low quality.
Once the intakes are on, the fuselage glued together there really isn't much left to do but put the wings on.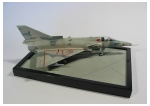 Decals / Finishing
I was really looking forward to adding the decals as I've found the Italeri decals to always go on well. These ones were the exception to the rule, I had no end of troubles getting them to settle down on the surface. The worst were the white tape decals on the wing leading edge, these never sat correctly and have recently started flaking off. This is one of those kits I have on my "re-to-do" list to fix up.
It's quite an interesting the effect taking photos of your finished work has, you really start to see the flaws and problems. The more photos I take, the more I want to fix things up :)
Once the decals were on I applied a wash to the panel lines and added some chalk pastels to the center of some panels to try and highlight them a little. This effect was lost a bit once the final mat coat was applied.