Hobbycraft 1/72 SU-22U Fitter
By Sav. 01/Dec/2009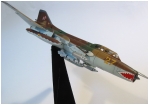 The Aircraft
The Fitter is another one of those aircraft that has an aggressive look when seen from various angles. After seeing a few pics of these on the internet somewhere I just had to find myself a 1/72 kit of one.
"Su-22 is a development of the preceding Su-7 and Su-17 and its Su-20 version, which first entered operational service in 1966. Variable geometry wings permit higher manoeuvrability and operational range with heavier combat load. Su-22 has been optimised for high-speed flight at low level"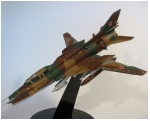 The Kit
I really don't know much about Hobbycraft, they've been around for quite a while and seem to make lower priced kits. The first thing you notice after opening the box is how few parts there are. Just the main fuselage and wing parts, canopy and your basically done.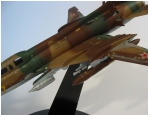 Construction
This was another one of those kits for me where I tried a few new things (I guess I do that every time, otherwise it becomes a little boring). Mostly I wanted to focus on getting that in-your-face, come get some look so wanted to deploy the air brakes, extend the wings and drop the flaps and leading edge slats as if it's pouncing on an unsuspecting prey. I don't know how likely this would be, and to be honest I didn't really care too much with this one. :)
After painting the inside of the office dark grey and black I popped on the canopy and moved to the bulk of the construction which for me, was cutting out all those little bits and scratch build the smaller parts like the air breaks.
The air breaks were probably the trickiest part of all because they were quite small and the plastic rather thick. Back when I built this kit I also didn't have any of the tools which I now use on every project so it was a bit rough.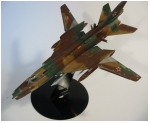 Painting
Painting was started on this kit with the light blue under side which was masked then the lightest of the three camouflage colors was applied. I also tried rolling up sausages of blue tack which slightly raised the paper masks and gave a feathered look to the camouflage. The affect was a lot of work and came out pretty good but I think it's a little over done. Considering the scale you could get away with using masking tape and just having a straight line between each camo color. I guess that's down to personal taste however.
Decals, Finishing
The decals came from a third party which I think are actually supposed to go on a single seat version, but I thought they looked pretty neat and just popped them on anyway. My painting can't have been very good because there is now a bit of air clearly visible under the decals.
The stand was made from an old CD which I sprayed black, I find these look ok but they can be a little unstable.
I paid a lot less attention to detail than what I normally would with this kit but it was still a very enjoyable build and I was quite pleased with the result. Something like this is often a good break for when your in-between projects.