Eastern Express 1/72 Sea Venom
By Sav. 14/Oct/2009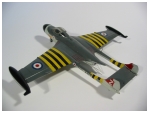 The Aircraft
Wikpedia says: The de Havilland DH.112 Venom was a British postwar single-engined jet aircraft developed from the de Havilland Vampire.[2] It served with the Royal Air Force as a single-seat fighter-bomber and two-seat night fighter.
Either way, the Venom is an aircraft which just doesn't look right not matter what angle you look at from.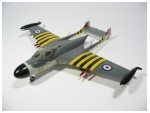 The Kit
This is another kit from Eastern Express which seems to be the same as the old Frog kitset model. The plastic is medium grey and quite soft, because of the age of the kitset there is quite a bit of work required to even get it to fit together.
However building the Venom Kitset wasn't a bad experience at all, I guess when you start a project like this you generally know what you're getting yourself into.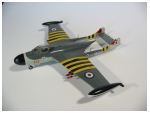 Construction
The cockpit was the logical place to start and I used a good deal of scratch building here as the provided pit has no detail at all. I did replace the L-shaped blobs of plastic with Aeroclub seats which were going to be visible under that large canopy. I was always going to keep the canopy closed on this one so didn't really bother too much about adding a bucket of detail which would never be seen.
Before the fuselage was glued I cut out the intakes as they seemed to have a solid wall and didn't show the correct intake fins. I added these with some spare sheet plastic and built some intake walls for better affect. 
Once the basic kit was together I applied a hefty about of filler where the tail boom fits the fuselage. There were some nasty gaps here that took a while to smooth out.
Everything else was used right from the kit, this was a quick build and I didn't want to go overboard. Expecially after spending so much time building the DH-110 Kitset.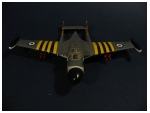 Painting/Finishing
All the panel lines were sanded off and the kit was re-scribed. There weren't a huge amount of panel lines to scribe here so it didn't take so long, and the panel details are mostly lost when the pain is applied.
I didn't bother pre-shading this one, opting instead for a more clean look so I applied the light grey underneath then applied the sea grey on top.
Next I masked off the inner wing and painted it yellow in preparation for the Cuban stripes.
Next up, the nose wingtip tanks and black invasion stripes were painted in one sitting.
Once everything was dried it was given a coat of future and details applied. I used third party decals for this one as the kit decals were shot.
Final touches were the white stripes on the wingtip tanks (which were a pain to mask and spray) and some stretched sprue for the various antennas.
All in all, this was a fun, quick build of another cool FAA bird.