AMT/Ertl 1/48 P-47D Thunderbolt
By Sav. 17/Aug/2009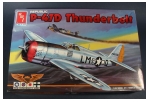 Introduction
Have to admit that I'm not so up with the play on 1/48th scale kits but I picked this one up thinking it would go well with my 1/48th scale B-17G which somehow found its way into my stash (That's my story and I'm sticking with it)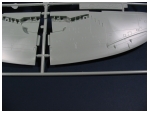 Overview
Moving from 1/72nd Scale to 1/48th scale one can't but feel a little stunned at the size of the parts and the amount of detail that can be found, and this kit is no exception.
The Cockpit parts are nicely detailed with a floor complete with rudder pedals, control column and side panels also look good with some pretty decent raised detail. The cockpit dash doesn't look so great but a little dry brushing should bring it out.
The canopy is also one piece so unless you use another canopy or cut the provided one open then you're going to lose a bit of detail from the cockpit once the canopy is on.The kit parts are very well molded in light grey plastic with finely recessed panel lines and rivet detail. The surface detail really is a treat and will look great if a wash is applied.
On the extras bin they have provided some dangly bits in the form of two 500lb bombs and a single 1000lb bomb for the center line. The kit also includes one standing figure which is in a mechanic type pose, the figure had a little flash around the edges on my kit and there was a nasty sink hole in his stomach area. This little guy was probably the worst part of the kit really.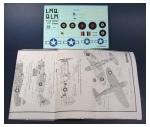 Details
The Decals look to be quite basic, if a little of the thick side but are well printed. Decals are included for three versions of the P-47D:-
Maj. Robert. S. Johnson, 62nd Fighter Squadron. 56th Fighter Group, 8th Air force - in overall Silver/Natural Metal 
No. 73 Training Group, Britain, Egypt 1944 in two tone green camouflage over Medium Grey 
Col. Jack Prise, The 8th Fighter Squadron, 78th Fighter Group, 8th Air Force in Olive Drab over Neutral Grey
With the variations supplied in the decals and the impressive surface detail this kit is a great starter for a decent P-47D.