Italeri 1/72 F-111A Aardvark
By Sav. 02/Apr/2009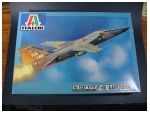 Introduction
Today we have on show Italeri's 1/72nd scale F-111A. This another fine kit from Italeri which features some good detail in the landing gear bay and adequate detail in the cockpit which has decals supplied for the instruments but you could really go to town with third party add-ons here. The kit does include a multiple piece canopy so it can be displayed either open or closed.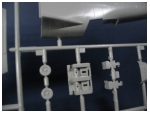 Overview
The kit does include the swing wing hinge so the wings can be built open, closed, or movable though if you're keen on the finer details you might want to set them in the preferred position and cover up some of the gaps where the wing goes into the fuselage.
As far as ordinance goes, the kit includes 8 high-drag 750lb bombs as used in Vietnam. These are carried externally via two MER's.
There are also two externally carried sensor type pods which appear to be chaff or flare dispensers, I can't find any details to confirm what these are so feel free to flick me an email if you know more about them. Also included is what appears to be a single external gun pod. It's a shame the instructions don't give any details as to what these are. If accuracy is a concert you might one to do some research on these to ensure they were actually carried on the 'PIG'.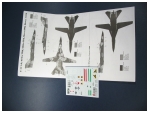 Details
Decals are included for three versions, all of which are painted in 3-tone camo typical of the Vietnam era and black underneath.
Decals are for:
F-11A; 474th TFW, 429th TFS - Takhli, Thailand 1972 
F-11A; 474th TFW, 428th TFS, Nellis AFB, Nevada 1978 
F-111A; 474th 4481st TFS, Takhli, Thailand 1968
The decals look sharp and are sure to go on well as I find most Italeri decals do however there arn't many of them so you might want to get some third party decals for stencil data.
Overall this is a very good buy as far as value for money goes. Unless your super keen about detail (and have the skills to maintain the detail throughout the build) then this is probably the F-111 kit for you. To make it really shine I would try scratch building the leading edge slats and the flaps which will really break up the dull looking detail of the top of the aircraft.